The Wikipedia describes IT Service Management by saying that "IT service management (ITSM) refers to the entirety of activities – directed by policies, organized and structured in processes and supporting procedures – that are performed by an organization to design, plan, deliver, operate and control information technology (IT) services offered to customers." If it were really that simple, then one could just go buy a bundle of policies, processes, and procedures then train the staff to perform them and call it a success.  
But it is not quite as simple and straightforward as that. Perhaps the definition provided in ITIL, the widely recognized framework for IT Service Management, speaks more to the true definition of IT Service Management when it states, "Service Management is a set of specialized organizational capabilities for providing value to customers in the form of services."  ITIL goes on to say: "The more mature a service provider's capabilities are, the greater is their ability to consistently produce quality services that meet the needs of the customer in a timely and cost-effective manner. And it is the act of transforming capabilities and resources into valuable services is at the core of service management."  
So, how do you mature your organizational capability for service management and enable your organization to transform capabilities and resources into valuable services?" 
To answer this, we first need to understand the difference between resources and capabilities. Resources are easy to define, these are the tangible assets of the company. Things like infrastructure, equipment, money, human resources. All of which can be readily obtained. Capabilities are the intangible assets of the organization; The ability of the organization, its people, its processes, its use of technology, to carry out activities related to providing services. These can't be bought, they must be developed within the organization. So, if you are looking at developing the organization's capabilities for Service Management, it becomes important to understand what the capabilities are that we are talking about. Again, ITIL offers some guidance, saying that capabilities take the form of People, Process and Technology.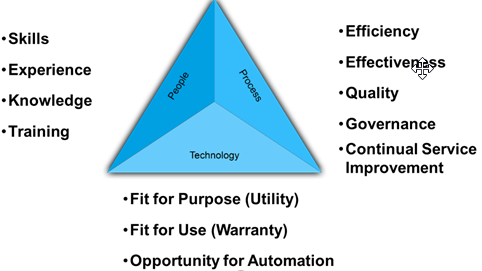 Let's take a closer look at each of these areas. In the area of people, it is not about how many, or few people are needed to deliver and support the services, it is whether the people within the organization have the right skills, experience, knowledge, and training needed. Does the organization have the right mix of these to be successful? What additional skills would need to be developed and what training would be required to provide these skills? Is the knowledge needed available within the organization? Are resources, in the form of time and money, available to obtain training, hire new employees? If the answer to these question is no, then can these be augmented by using third-party services? If so, does the organization then have the right mix of skills, experience, knowledge, and training to manage third party or hybrid services?  
From the process perspective, effective service management organizations need processes that are efficient, in that they can deliver and support services in a timely yet cost-effective manner. They need to be effective, in that they deliver what the customers need with the expected level of quality.  It is about ensuring that the right levels of governance are in place to ensure that the processes are being followed. And to do that, service management organizations need sound policies in place with the appropriate level of controls. They also need to develop the capability to continuously improve both the services being delivered and the processes that are used to create and deliver these services.  
On the technology side, the technologies and tools used to create, design, implement and monitor the services, as well as any that used as part of the service itself, must be "Fit for Purpose". Do they do what customers need them to do; do they provide the needed utility. Then, do they do this in the way that customers need them to form an availability, capacity, reliability and security perspective? Something ITIL refers to as "Fit for Use" or Warranty. And then wherever possible, organizations need to develop the capability to effectively make use of technology to automate the design, the implementation, the ordering, provisioning, and monitoring of services.  
The goal is to find the sweet spot where all of these capabilities are optimized and then expand this level of optimization as far as possible to mature the organizational capabilities around Service Management. 
It should be noted that while ITIL evolved around IT Services, Service Management as defined within ITIL is not IT specific. The concepts and best practices defined within ITIL can be used for any service organization whether the services provided are internal or external; this is referred to as Enterprise Service Management. Likewise, ITIL should not be the only source of information and guidance for improving an organizations service management capability. Methods and approaches like Agile, Lean, DevOps, and Cobit as well as other emerging methods and frameworks can all provide value when creating your Service Management organization.  
About the Author
Chuck Spencer, Flycast Partners ESM Practice Lead, is a certified ITIL Expert and trainer with over 30 years of experience in IT Service Management. He holds additional certifications in Organizational Change Management, ISO 20000, Cobit, and Scrum and is a Lean Six Sigma Black Belt.