Setting Recurring Appointments that Generate New Tickets in FootPrints
Abstract: In FP v11, the system had the capability for preventive maintenance where you could create a calendar appointment and have that recur and create the respective tickets automatically. Question is, how do we do this in version 12?
Workaround: As of version 121.06 of FootPrints Service Core, the system can be configured to create a new linked ticket on a recurring appointment, but it will not update fields to the additional tickets created by the recurring appointment…unless you follow the below workaround:
How to set up a recurring appointment to create preventive maintenance tickets.
Create a date/time field and place this on the ticket form. This field will be used by the workspace item to link to the calendar.
Go to the Calendar and in the corresponding workspace item calendar, create a new personal and container appointment.
In the "Select Container" field that appears to the right, use the dropdowns and select the correct "Container" where you want the ticket to be created in.
Fill in the Calendar "Title" field in the appointment with a unique value. This will be the short description of the ticket that will be created.
Set the "When" date and time fields and remember to check "Recurring".
Fill in the "Description" field if needed. This text will also be copied over to the new ticket once it's created.
Set the invitees. This will link to the first assignee field in the container.
Set the Recurrence values
In the "Linked Item" section, click "Create Linked item".
Apply a template or fill in the fields as needed. Note that you have to create this first ticket in order to get the functionality needed.
Save and close the new ticket.
Save the new appointment.If you need to fill fields other than the title, description, and assignee, you will need to create an after save business rule in the workspace item.
Create an After Save rule.
Make sure the trigger is "On Create" only.
For the rule's Criteria select the "Title / Short Description" field or whatever you might have renamed this to. Use the "Contains" condition and copy and paste the Title of the appointment you previously created in the calendar.  This will be the value when the ticket is created on the recurring calendar appointment and should match the new ticket.
For the action, select "Set field values" for each field you want to have populated on the ticket.
If you also wanted to link a specific Contact to the ticket, you will need to create another rule, this time a time-based rule, that would update this ticket once created and link the contact record.
If this is the case, step 5 for the above would be to have an action that would set only the user id of the contact.
You would then create the additional after save/ time-based rule and this would run and match for the field "User ID" with the condition on "any value" and "Last Name" with the condition of  "no value":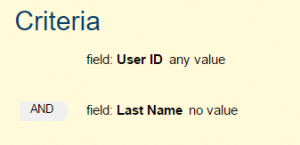 The action here would be to "Link Existing Record" as shown below.  In the field Target Record Type, select your address book container: