Solutions
Analytics and Insights
Go from Data to Insights in Minutes. Any data, any way, anywhere; all in one view
All organizations have data; they have information.  We help our clients make sense of the various data sources and information within their organization.  Using intelligence tools and solutions, we'll build useful reports, analytics, Key Performance Indicators (KPI's) and digital intelligence.
Analysts
Quickly go from data to insight to action.  Connect to hundreds of sources, promptly prep data, create powerful reports
Users
View dashboards online, on a mobile device, receive alerts when data changes and drill down into the details.  Data at your fingertips.
Information Technology
Simplify management, achieve compliance, and keep data secure while granting internal and external users the access to insights that they need.
Developers
Embed interactive data visuals and deliver compelling reports with high fidelity on any device.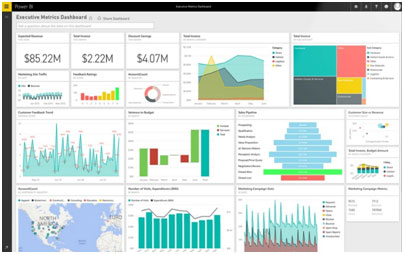 Know your Data
Connect to what matters to you.  Local data, such as spreadsheets and CSV files, on-premise data sources, big data, streaming data, or cloud services – it doesn't matter.
Access
Excel
CSV Data
Web Pages
Azure Analysis Services
Azure SQL Database
Google Analytics
Adobe Analytics
Dynamics CRM & 365
com
SQL Server Databases
SQL Server Analysis Services
MailChimp
QuickBooks Online
SharePoint Lists
Visual Studio Team Services
What is Power BI?
Power BI is a suite of business analytics tools that deliver insights throughout your organization. Connect to hundreds of data sources, simplify data prep, and drive ad hoc analysis. Produce beautiful reports, then publish them for your organization to consume on the web and across mobile devices. Everyone can create personalized dashboards with a unique, 360-degree view of their business and scale across the enterprise, with governance and security built-in.
For business users, this means you will always be in the know. View dashboards on the web or on your phone – whatever is most convenient for you – get alerts when data changes, and drill into details. All at your fingertips. For IT, this solution allows you to simplify management, achieve compliance, and keep data secure while giving people access to the insights they need. For analytics, you can quickly go from data to insight to action, connect to hundreds of sources, prep data with ease, and create beautiful reports, all in just minutes.