Solutions
Custom Extensions
When there is either no "out-of-the-box" solution or 3rd party plugin available to meet your business requirements, we can design and develop a custom solution.  We create tailored solutions that are designed to integrate with your existing Dynamics 365 environment to deliver the best solution for you.
Concept to Creation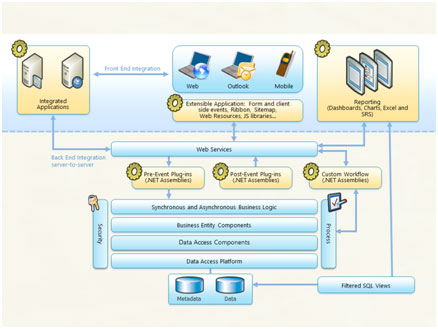 One thing that makes Dynamics 365 unique is that it harnesses the power of One Microsoft. The deep integration between Dynamics 365 and Office 365 brings together the two worlds of business process and personal productivity. We surface familiar tools like Excel and Word within the context of business processes, significantly increasing productivity and decreasing context switching. Power BI and Cortana Intelligence are natively embedded into Dynamics 365 business applications for predictive insights, prescriptive advice, and actionable next steps. Additionally, Azure IoT brings device data to enable preemptive action in business functions like field service.
Businesses can also adapt and innovate in real-time with a common data model and an extensible business application platform, including PowerApps, Flow and Power BI Embedded. Microsoft AppSource has also been introduced, allowing business users to easily find and evaluate line of business SaaS applications from Microsoft and us, across Dynamics 365, Office 365, Cortana Intelligence and the Azure platform. The solutions/apps that you need to meet your business need but are not available, we can custom build for you.